Recap!
Third year running we have had our developer offsite.  Three days to share knowledge, learn something new and some team building. It generally happens to coincide with a natural disaster. This year was no exception – Sandy.  We made some changes this year to involve the community outside with some knowledge sharing and internally team building with a larger part of the organization.
Pre-event.  
We encouraged members of our team to attend the Lehigh Valley Startup Weekend to support efforts to build up tech in this region. The outcome? Our team, with members of the Lehigh Valley Community, placed First and Third (
Lehigh Valley Startup Weekend Winners
).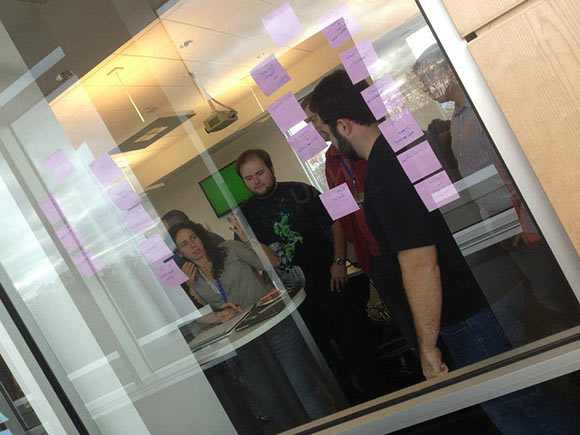 Day one. 
We did something completely new, something that most of the team does not work with currently.  This year, full on Hadoop. Much appreciation to the 
Chariot Solutions
 team (they were the only company we talked to that understood what we were trying to do!) for pulling together a one day hackers express for a team that is less than 50% of java developers. Everyone got something out of it.
Day Two and Three. We ran a wide range of internal sessions, almost all hands on, writing code. Writing PHP Extensions, Building on Node.js, and Redis basics to name a few. Our Android and iOS teams led 101 training, getting everyone ramped on writing mobile apps.
Day Three. We concluded with a trip over to Lehigh University where Jonah gave a public presentation, which I have renamed "Algorithms and Anecdotes".  Jonah, I and others from the MeetMe team talked to some problems and solutions that a growing social network faces.
This year's experience expanded with our QA team running their own internal event with a focus on cross training and improving skills. A first for our QA team and a great experience to build on for next year.
Normally we integrate team building within our developer offsite, but this year we expanded to incorporate all of engineering, and did it when the developer team returned. Finding the right company and program to work for our team was not simple.  I would suggest three steps to finding the right company to work with : (a) research and identify at least 4-5 (b) have multiple calls with them and make sure they are asking you good, detailed questions and (c) check references. This helped weed out a few companies immediately. Special thanks to Alan Lowis from 
Professional Team Building
 for bringing together some knowledge and special moments.
Ending the developers offsite week with our own internal HACKD was terrific and culminated in some great projects in both software and hardware!